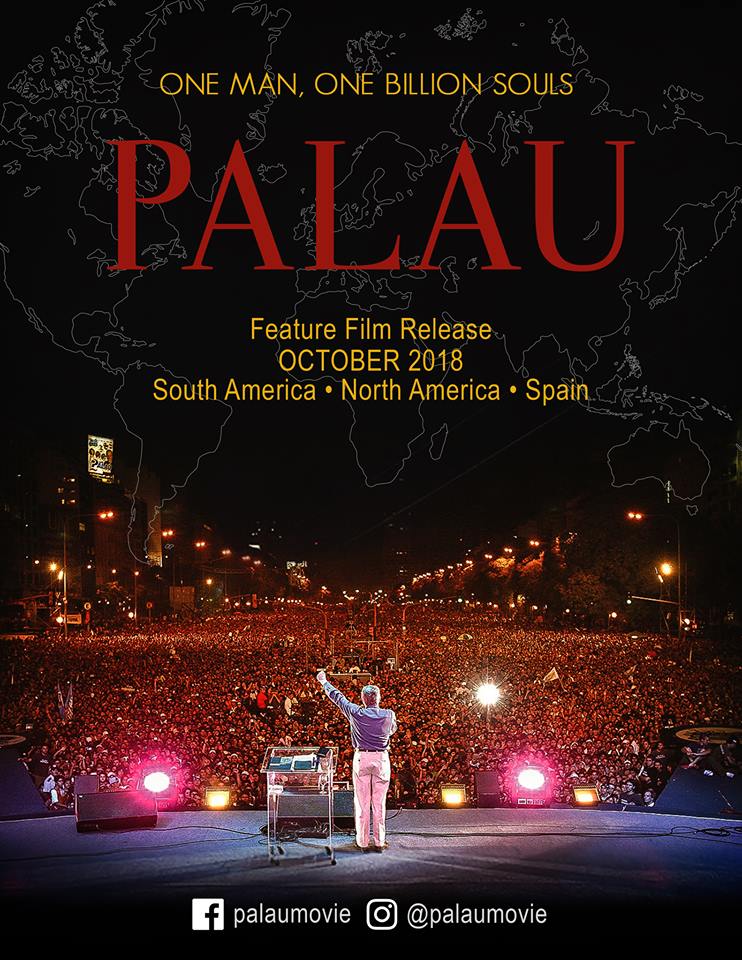 Palau, Legacy Film Based on the Life of Luis Palau, to be Distributed Theatrically in October 2018
The Luis Palau Association, Ollawood Productions and Rivka Entertainment Group announced today the forthcoming release of Palau, a legacy film based on the life of international evangelist Luis Palau. The feature-length film is set to be distributed in theaters across North America, South America, and Spain in October 2018.
A story of relentless grit, motivational strength and humbling triumph, Palau is a film many will relate to. As a young man, a passion and vision to proclaim the Good News of Jesus to all the nations was planted deep in Luis' heart. Amidst both seemingly insurmountable struggles and remarkable miracles, Luis never lost sight of his calling. His extraordinary story will bring hope to the masses and encourage all that God has greatness in store for them.
"I've never thought of myself as someone special. I'm just a kid from a cow town in Argentina," Luis Palau says. "Yet God grabbed my heart at a young age and chose to use me to share His Good News in a dramatic way. Now, more than 65 years later, I've had the joy of leading millions of people in public confessions of faith in Jesus, from princesses and presidents to criminals and cynics. This film is the story of that journey. I pray it encourages all to embrace Jesus and trust Him for great things."
Palau is produced by Ollawood Productions and Rivka Entertainment Group in partnership with The Luis Palau Association. Production begins December 2017 in Luis' birthplace, Buenos Aires, Argentina and will continue in Portland, Oregon where he currently lives with his wife, four sons and their families.
"The impact of Luis Palau's ministry is unprecedented," founder of Ollawood Productions and financer of Palau, Bill Busbice says. "Luis has transformed the Christian faith community over the last 65 years and has touched millions of lives by obeying his calling. It is my honor to support this project and I believe it will be a blessing around the world."
"Luis' personal story is powerful and producing a film that honors his life is a tremendous privilege," founder of Rivka Entertainment Group and Executive Producer of Palau, Rebekah Hubbell says. "This film will not only honor his legacy but will inspire viewers to understand the unwavering principal Luis has lived by for 65 years: a relationship with God is the answer to everything."
To learn more about Palau, please visit www.LuisPalauMovie.com and Facebook.com/PalauMovie.
About The Luis Palau Association
For more than 50 years of ministry, Luis Palau and his team have been known for their commitment to the Word of God and the clear teachings of Jesus Christ. Luis is a dynamic evangelist and teacher, living a life of dedicated service and commitment to God as he shares the life-changing message of Jesus Christ. The Palau Association has had the opportunity to work with thousands of churches in hundreds of cities around the world. The Palau Association has coordinated hundreds of citywide campaigns in dozens of nations, including major evangelistic festivals on five continents. For more information, please visit www.palau.org.
---
Original Press Release can be found: http://christiannewswire.com/news/5164380391.html